Game #9-403: Detroit Titans at Valparaiso Crusaders
February 16, 2013 6:00 pm
Athletics-Recreation Center
BBState Stats/Recap
Last March, after the Horizon League championship game,
this
happened: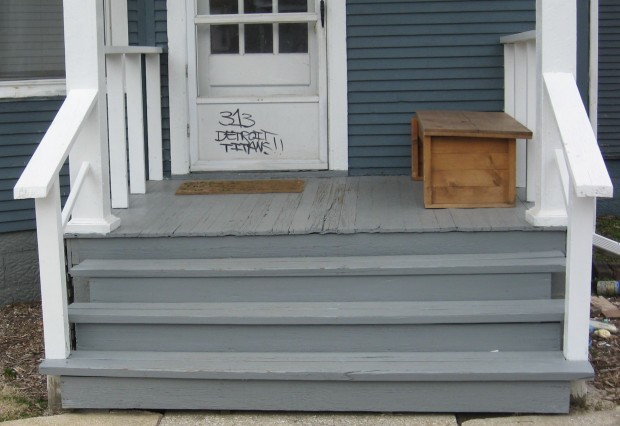 Yesterday, during ESPN's Rivalry Week, the team celebrated brashly by denizens of the 313 area code returned to the scene of the crime and were greeted with this:
Detroit-Valpo has developed into something that lends itself to easy stereotypes and emotional trash talking. Earlier this week, a fellow Valpo fan reported that the Detroit Titan fan message board (no affiliation with the athletic department or the Men's Basketball team) featured a fan or two who had come to despise Valpo. I was reminded of the vitriol that was sometimes exchanged between Valpo and ORU fans,
as I wrote last week
. The dynamics are different, but the similarities are striking: a culture clash fueling feelings of animosity between the two fan-bases. In this case, University of Detroit-Mercy is hardly what I would call a charismatic community given to confusing athletic competition with divine intervention. The culture-clash is less about spirituality and more about basketball.
The Titans seem to me to be a team that feeds off hostility. This year, they appear to be the strongest, most athletic team in the Horizon League. How they have 4 conference losses is a mystery. How they surrendered a 22 point lead against Valpo back in January at their place is also a mystery. The best I can do is say this: they are truly dangerous. The only thing that holds them back is lack of focus. When something clicks and stays there for the team, I'm convinced no one in the conference can touch them, including Valpo. And, the fact that they have rubbed other teams noses in it at times has yet to come back to haunt them. In fact, I have this theory: they feed off the backlash. If you can't get them to play ragged and abandon their game plan, no amount of student section taunting will do any good.
Tonight, in the second half, whenever Ray McCallum, Jr. stepped to the free throw line, the Valparaizone chanted, "Daddy's Boy!" to no ill effect that I could see. As the final seconds ticked off of Detroit's come-from-behind 10 point victory, the VU students could muster nothing more than "We're Number 1". Technically in the standings, Valpo is still in first place by a half-game and still controls its own destiny, but tonight I saw evidence to suggest that it might not matter how much Valpo controls its own destiny. They could win out, host the tourney again, and lose again to Detroit on its home court. The only sign of maturity I noticed out of Ray McCallum, Jr. tonight was not making a beeline for the basket as time ran out, but then his fans weren't cheering him on from behind the basket, and this wasn't the tournament.
But, what if he did that on purpose last year, knowing there would be lots of animosity aimed in his direction? What if that very animosity is the fuel that powers his game? Then what, Valpo?
Then what, indeed.
It took until mid-way through the second half before Detroit finally flipped the switch and stepped up their game. Valpo definitely wilted under the pressure, though it was gradual. Valpo is not a pretender as a first place team. Swatting the Crusaders aside was no easy task. Nevertheless, the Titans found the momentum and the focus they needed. And Valpo committed some silly fouls down the stretch. After Matt Kenney hit a jumper to put Valpo up 63-48, Detroit ran off 17 straight points. It wasn't until there was 1 minute left that they really put their foot down, but they had taken control of the game. In an odd bit of symmetry, they fueled their run after Valpo hit a 3 and Detroit committed a flagrant foul after the shot. Bobby Capobianco split the FTs. Valpo in-bounded the ball and promptly turned it over. This same thing happened back in January and was the beginning of Detroit's collapse at Calihan Hall.
A little bit later, after Erik Buggs scored a layup off a steal, LaVonte Dority lost his shoe and thought he had time to fix it, while the rest of the team was caught napping by a Nick Minnerath home run ball.
I went around and around with a fellow Valpo fan who is convinced that Detroit didn't win the game; rather, Valpo lost it. Hyperbole aside, it is true that Valpo should have handled the surge better than it did. The Valpo coaching staff certainly believes that. Assistant Coach Luke Gore laid the wood to a couple of players in the post-game show. I have no intention of contradicting the coaching staff, merely to say that the Titans seem to be the most powerful team in the conference. If they want to dominate, they can and nobody can stop them. That takes a lot of hard work and focus and mental strength, and we still have a few weeks to see if they will maintain that when it really matters. But they appear to be the most dangerous team the Horizon League has to offer for doing damage in the NCAA tourney.
Valpo, meanwhile, has not lost two in a row since very early in the non-conference season, if at all. They have shown the ability to use this kind of setback to fuel their own cause. But, they remain David to Detroit's Goliath, having to out-smart them to win.Last year, Valpo swept the season series and entered the championship game full of confidence, only to be deflated. This year, each team has shocked the other on the road. It should be a grand battle in March, if it comes down to that.
DETROIT 84, at VALPARAISO 74
02/16/2013


DETROIT 18-9 (10-4) -- J. Calliste 5-10 8-9 21; R. McCallum 6-15 3-4 15; N. Minnerath 10-16 0-0 21; J. Howard Jr. 0-4 3-4 3; E. Bruinsma 5-6 2-2 12; D. Anderson 4-6 0-2 8; U. Njoku 1-2 0-0 2; P. Boutte 1-1 0-0 2; A. Wilson 0-0 0-0 0. Totals 32-60 16-21 84.
VALPARAISO 20-7 (10-3) -- R. Broekhoff 3-10 2-2 10; W. Bogan 5-8 0-0 15; M. Kenney 6-8 2-4 18; K. Van Wijk 5-5 0-0 10; E. Buggs 6-12 0-0 12; L. Dority 1-8 2-2 4; B. Boggs 1-3 0-0 2; B. Capobianco 1-2 1-2 3. Totals 28-56 7-10 74.

Three-point goals: UDM 4-8 (J. Calliste 3-4; R. McCallum 0-3; N. Minnerath 1-1), VALP 11-27 (W. Bogan 5-8; E. Buggs 0-2; B. Boggs 0-2; M. Kenney 4-6; R. Broekhoff 2-7; L. Dority 0-2); Rebounds: UDM 27 (E. Bruinsma 10), VALP 25 (K. Van Wijk 9); Assists: UDM 18 (R. McCallum 6), VALP 16 (E. Buggs 8); Total Fouls -- UDM 15, VALP 20; Fouled Out: UDM-None; VALP-E. Buggs.