Game #9-346: Butler Bulldogs at Dayton Flyers
January 12, 2013 2:00 pm
U. of Dayton Arena
BBState Stats/Recap
I've seen many games inside UD Arena. It was often the host of the sectional that my high school played in. I've also witnessed several Dayton and NCAA tournament games inside the venue as well. The one thing I hadn't seen is my college alma mater, Butler, play there.

For a few years in the late 80s and the early 90s, Butler and Dayton were both members of the Midwestern Collegiate Conference (now the Horizon League). After the 1992-93 season, Dayton left the conference to join the Great Midwest, the forerunner of today's Conference USA. Butler and Dayton had not played each other in men's basketball since, a span of 20 years.

That's pretty sad considering the quality of the basketball programs each school has produced over the years. The two schools are only separated by a two-hour bus ride that hardly requires leaving the interstate the entire trip. The all-time series was fairly even too, with Butler holding the slight 11-10 edge, including winning the last four games.

I made sure to buy a ticket for this game the day individual conference-game tickets went on sale, knowing it would likely be a sellout. Sure enough, 13,455 fans, 20 more than the official capacity, would fill UD Arena on this Saturday afternoon. At least one seat still remained unfilled, the one next to Craig Caswell, who still hasn't had anyone sit to the right of him this season, except for me when I chose to self-upgrade my seat.

From time to time, I like to read the opposing team's message board to get their thoughts on the upcoming game. I found it quite humorous that many of the fans were complaining about the pregame music as the Flyers took the court for the final time before tip. The Dayton staff had switched to a mix of dubstep and air-raid sirens that was unpopular with most fans. They liked the previous intro where they could clap along and get themselves fired up for the game. Somebody at UD must read that board, because when the Flyers took the court, 2 Unlimited's "Get Ready for This" blared over the PA, followed by LMFAO's "Party Rock Anthem."

The change in music didn't help immediately, as Butler jumped out to a quick 4-0 lead with a couple of Andrew Smith free throws and a layup. Dayton would find their range and take their first lead at 9-8 off of a Khari Price three-pointer. Eric Fromm would answer back with a superhoop of his own to give Butler the lead back, but Price would answer with another bomb from behind the arc.

After a couple of Jalen Robinson free throws for Dayton, Rotnei Clarke would start to make an impact for Butler. Clarke hit a superhoop to tie the game at 14-14. A couple of trips later, Clarke would throw an alley-oop pass that looked like a 20-foot hook shot to Khyle Marshall for a #omgdunx. Then Clarke would pick the pocket of Matt Derenbecker and streak toward the basket for a layup...
"I placed my hands upon the plans,
I waited for a proud display.
I played around, I heard the sound
of certain trouble on the way
I've got Bulldog Skin."



What followed was one of the most worrying sights I have seen in watching sports. Derenbecker
would try to block
Clarke's layup, but in the process, drilled him from behind and sent Clarke head first into the padded basket support. Officials were quick to call a flagrant foul, much to the Flyer faithful's dismay. But the concern was with Clarke, who could not get up. On the television broadcast, you could hear him say "I can't move."
Photo: Fox 59 Indianapolis

For minutes, Clarke laid on the court on his back. The trainers went through a series of questions with Clarke. Clarke said that he started to get feeling back after a few seconds. "I'm not coming out," Clarke would tell the trainers, who had to convince Clarke to stay on the ground. Eventually, Clarke would be taken off the court on a stretcher and to a local hospital. But not before Clarke would give a thumbs up on the way off the court.

You have two options in a situation like this, and both would be understandable. One would be to be so distracted by the concerns you have for your teammate that you lose focus on the game at hand. The other is to know you can't do anything about what is happening off the court and refocus on winning the game for your fallen teammate.
Butler has used the term "Next Man Up" in situations like this. It's not original to Butler; it came from former Colts' head
coach Tony Dungy
, who heard a similar mantra when he played for the Steelers under coach Chuck Noll. It certainly paid off in the second half of the 2010 Final Four game against Michigan State when Matt Howard got a concussion and Shelvin Mack battled cramps for the last 10 minutes. It paid off when three Bulldog players fouled out against
#1
Indiana earlier this year. This game would be another test to see if the Bulldogs could respond to adversity.

Things went quite well for Butler immediately after the injury. Marshall would get three straight baskets and freshman Kellen Dunham would drain a three and suddenly Butler led 31-20 with 5:00 left in the first half. Dayton would chip away a bit at the lead, but still trailed the Bulldogs 35-27 at halftime.

Butler would continue to hold on to the lead in the second half with a true team effort. Ten of the 11 Bulldogs that saw action would score, with only long-pass specialist Emerson Kampen failing to tally in the scorebook in his two seconds of action. It looked like it might be a comfortable second half for Butler when Marshall got another dunk straight out of an inbounds play where most of the Flyer defense collapsed on Smith. The dunk gave Butler a 44-30 lead with 16:48 to go.

Dayton would slowly chip away at that lead, and when Vee Sanford hit a three with 8:08 left to bring the Flyers within six, the crowd really got into the game. The UD Arena fans do not like to see thei Flyers lose at home, especially when the loss would drop Dayton to 0-2 in A-10 play. After a Roosevelt Jones layup for Butler, Sanford drilled another superhoop to make the score 61-56 in favor of the Bulldogs.

Brad Stevens took a 30-second timeout to stop the momentum and draw up a play. Stevens is acknowledged as being one of the best coaches setting up plays out of timeouts, and what he came up with this time was no exception. Smith would set a pick for Jones at the top of the key, as Jones went around the pick, Smith flared to the outside and spotted up behind the arc.. Smith's defender went with Jones for a double-team, leaving Smith wide open. Jones threw the pass out and Smith drilled the three to extend Butler's lead back to eight.

The lead would mostly stay in that range the rest of the game. Dayton coach Archie Miller played an interesting strategy and started fouling a bit earlier than normal whenever Jones touched the ball. Jones is only a 53 percent shooter at the line, and his technique is admittedly awful, but he is improving. The sophomore would knock down 3-of-4 free throws down the stretch, and with the help of Alex Barlow and Dunham, the Bulldogs would survive a late Flyer run to win 79-73.

After the game, Stevens went immediately to the hospital while Associate head coach Matthew Graves handled the postgame press duties. Butler fans had to be happy when Stevens tweeted out a picture of Clarke in a hospital bed, holding up his game jersey which had been cut off of him with a big smile on his face. Nike would have to get Clarke another jersey, but that was of little consequence, all things considered. Clarke would be discharged from the hospital shortly afterward, and rode the bus back home to Indy with his teammates.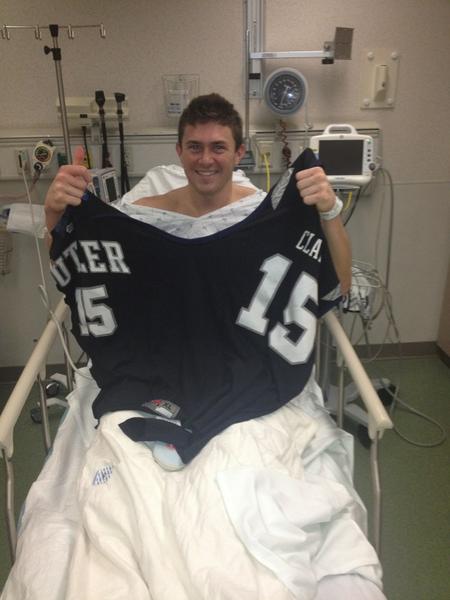 Photo: @BUCoachStevens


"I crashed my nerve, I made it swerve
I made it back, was no big deal
I tasted blood, a date with scud
and now I don't know how to feel.
I got Bulldog Skin."


Bulldog Skin - Guided By Voices
BUTLER 79, at DAYTON 73
01/12/2013


BUTLER 14-2 (2-0) -- R. Jones 4-8 8-12 16; A. Barlow 1-1 4-6 6; K. Dunham 2-6 2-2 8; A. Smith 4-7 4-7 13; K. Marshall 4-6 4-8 12; K. Woods 2-3 0-0 4; R. Clarke 2-3 0-0 5; E. Fromm 3-5 0-0 7; C. Stigall 2-3 0-0 6; J. Aldridge 1-1 0-0 2; E. Kampen 0-0 0-0 0. Totals 25-43 22-35 79.
DAYTON 10-6 (0-2) -- D. Pierre 5-9 3-5 14; D. Oliver 2-12 3-6 7; K. Dillard 5-11 2-2 13; V. Sanford 5-15 2-2 14; K. Price 3-4 2-2 10; J. Robinson 0-2 2-2 2; J. Benson 2-4 2-2 6; D. Scott 1-1 0-0 2; M. Derenbecker 2-4 0-0 5; A. Gavrilovic 0-1 0-0 0. Totals 25-63 16-21 73.

Three-point goals: BUTL 7-13 (R. Clarke 1-2; C. Stigall 2-3; A. Smith 1-2; E. Fromm 1-3; K. Dunham 2-3), UD 7-19 (K. Dillard 1-3; V. Sanford 2-6; D. Oliver 0-3; M. Derenbecker 1-3; K. Price 2-3; D. Pierre 1-1); Rebounds: BUTL 25 (R. Jones 7), UD 36 (D. Oliver 13); Assists: BUTL 19 (A. Smith 4), UD 10 (K. Dillard 3); Total Fouls -- BUTL 21, UD 27; Fouled Out: BUTL-None; UD-J. Benson.