Game #8-725: Maryland-Eastern Shore Hawks vs. North Carolina Central Eagles
March 6, 2012 4:00 pm
Winston-Salem, NC
BBState Stats/Recap
I wrapped up the second game story just as game three was tipping off between the North Carolina Central University Eagles and the University of Maryland Eastern Shore Hawks. Unfortunately unlike the previous two games this one did not come down to the final minute. In fact, it did not have much suspense at all, with NCCU dominating.
While the half time score was close at 29-26 in favor of NCCU, you could feel that NCCU was by far the better team. NCCU showed their dominance in the second half, quickly jumping to a double digit lead and coasting to the win from there.
During half time I walked around the LJVM Coliseum a bit more and managed to snag a free t-shirt for filling out a survey. I also browsed around the stands that were set up around the concourse. A few clothing tables with HBCU items, along with a jewelry stand, a hand bag stand and a makeup and nails station.
Yes, you could get a manicure between games if you so desired.
To be honest, it kind of gave off a flea market type of vibe and quickly grew old.
I spent the second half of the game trying to take a few more photos and enjoy the atmosphere a bit more. One thing I noticed was that the cheerleaders for both teams were sans pom-poms. All of the cheers, and there were plenty, were led by the squad captions and different from what you see from traditional cheer squads.
The best way I can describe it is more like something you would see in a movie depicting the 1950's with sexual outfits and gyrations. Very old school on one hand, yet so over-the-top on the other. Male cheerleaders were almost non-existent, with UMES having two acrobatic males and NCCU having none.
Another thing I took delight in watching was the NCCU cheerleaders' reactions to a creepy old man who was insistent on getting close up shots of certain cheerleaders. As hard as the one girl tried to decline, he just kept hounding her till she relented. I'm sure she was justifiably concerned about where the picture may wind up.
I turned my attention back to the game as it wound down un-climactically with NCCU winning 60-43 over UMES. In fact, the game ended so early the next two teams got an extra fifteen minutes of warm-up time so their game didn't start before advertised.
During this extended down time, I realized that my plan to only eat once at the arena was going to take a lot of resolve as I was already getting hungry again. Such is the life of a fat guy.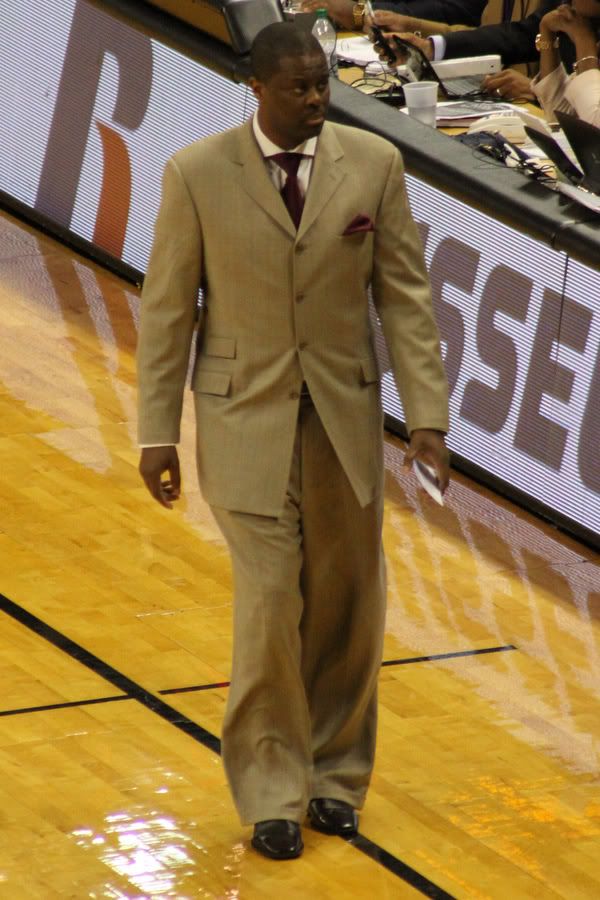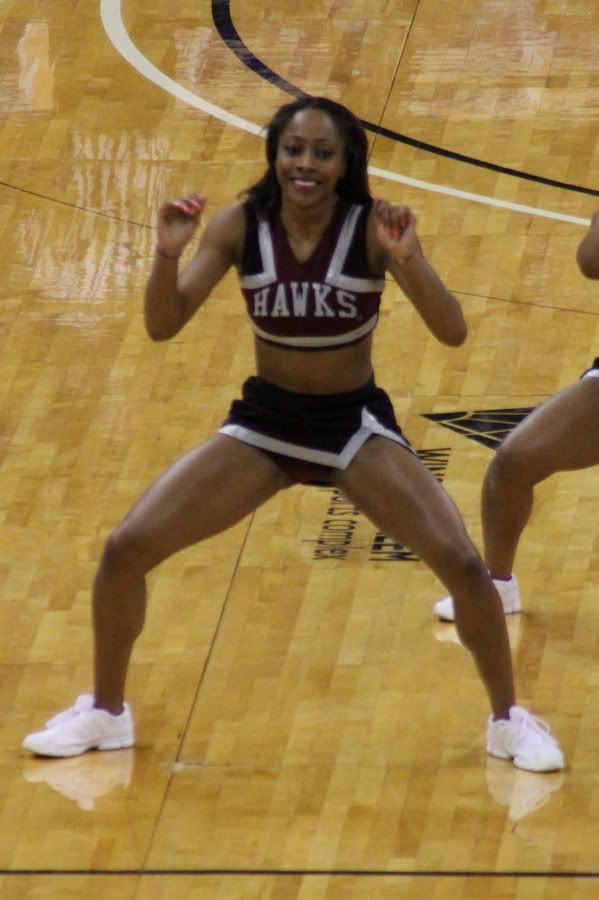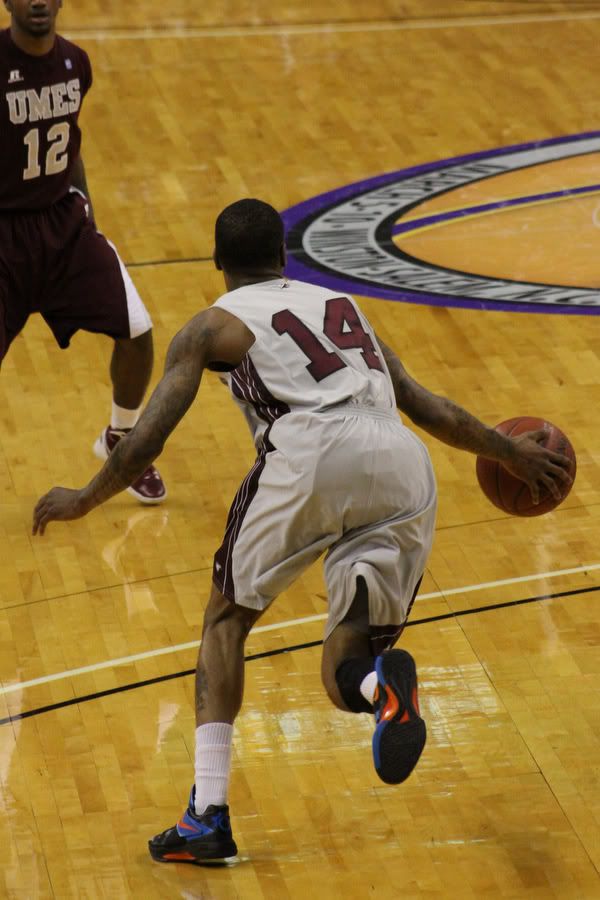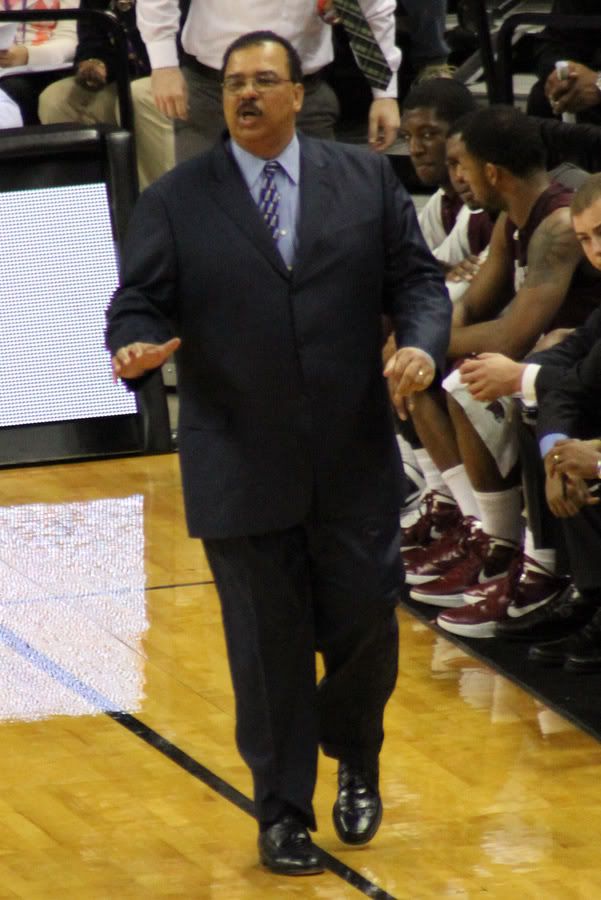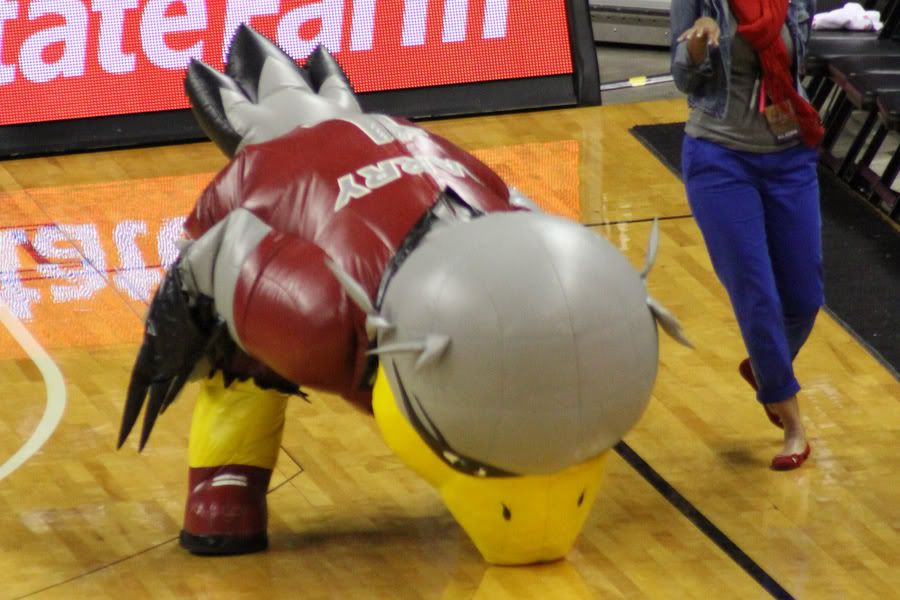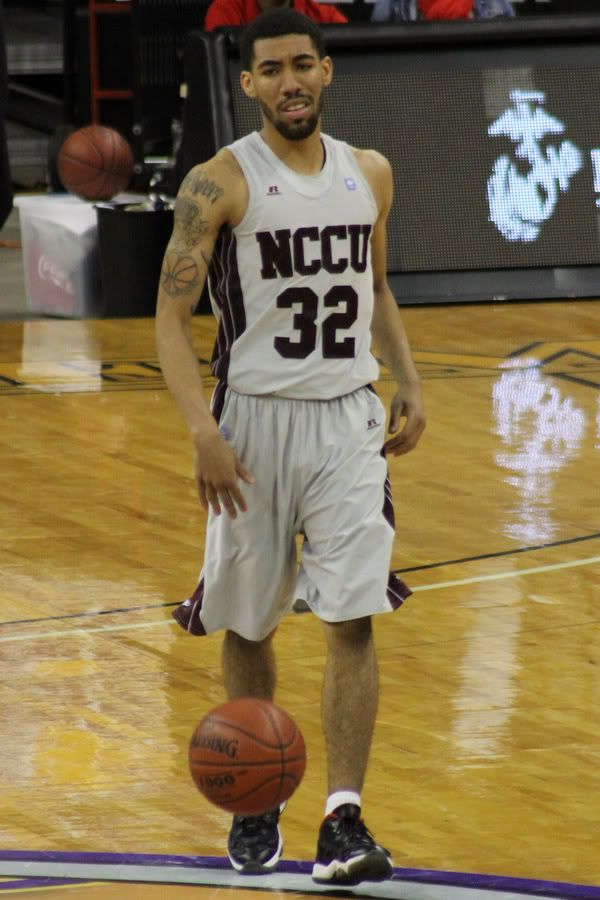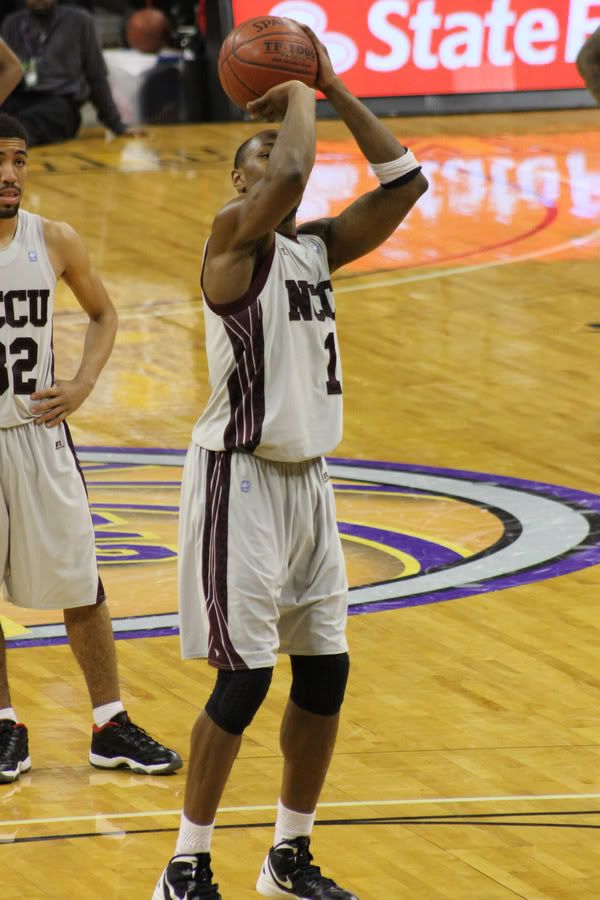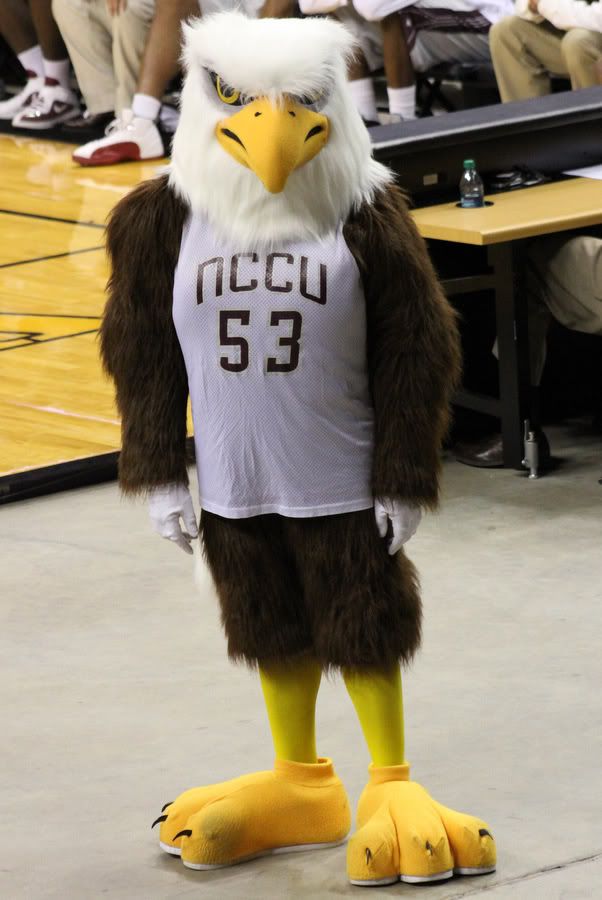 NORTH CAROLINA CENTRAL 60, MARYLAND-EASTERN SHORE 43
03/06/2012


MARYLAND-EASTERN SHORE 7-23 (4-12) -- H. Haley 3-12 2-4 8; P. Woods 5-9 5-10 17; R. Spencer 1-5 1-2 3; T. Hines 1-3 1-2 3; G. Womack 4-8 0-0 10; M. Robertson 0-2 0-1 0; O. Kosile 1-2 0-0 2; A. Anderson 0-1 0-0 0; P. Guillaume 0-1 0-0 0. Totals 15-43 9-19 43.
NORTH CAROLINA CENTRAL 17-14 (10-6) -- D. Sutton 2-7 9-11 13; R. Willis 2-9 0-3 5; E. Anyaorah 3-7 4-6 11; E. Chapman 1-5 0-0 2; T. O'Neal 1-1 2-4 4; J. Leemow 4-7 0-0 10; N. Chasten 2-6 0-0 5; T. Beaman 1-1 0-0 3; J. Ingram 2-2 2-3 7; K. Jawara 0-0 0-0 0; D. Best 0-0 0-0 0. Totals 18-45 17-27 60.

Three-point goals: UMES 4-13 (H. Haley 0-2; M. Robertson 0-2; R. Spencer 0-1; G. Womack 2-4; P. Woods 2-4), NCC 7-17 (E. Anyaorah 1-4; R. Willis 1-4; J. Leemow 2-3; N. Chasten 1-2; T. Beaman 1-1; E. Chapman 0-2; J. Ingram 1-1); Rebounds: UMES 37 (H. Haley 10), NCC 24 (D. Sutton 5); Assists: UMES 8 (P. Woods 3), NCC 13 (E. Chapman 5); Total Fouls -- UMES 19, NCC 19; Fouled Out: UMES-None; NCC-None.
blog comments powered by