Game #8-724: Florida A&M Rattlers vs. Coppin State Eagles
March 6, 2012 9:00 pm
Winston-Salem, NC
BBState Stats/Recap
Game four started and I moved a bit trying to get a few good game photos. Thankfully only a few hundred fans were at the game so it was easy to get close to where I wanted.
Even better was the guy in front of me was a fan shooting photos with the same camera as me, and he talked to me for a few minutes and he even allowed me to borrow his lens for a few minutes to try it out. Most people will not let you near something that costs a couple thousand dollars so I was really appreciative of his kindness.
Needless to say, the lens took great photos, but I felt bad and gave it back after just a few photos.
As for the game, Bethune-Cookman took an early lead and just seemed to hold on to it throughout the first half. They were able to stretch the lead out in the final minute for a half time score of 27-18 over South Carolina State.
When the second half began, SC State made a nice charge to get within three points, but BCU quickly stretched their lead back out to nine points before both teams settled in to a back and forth affair.
With neither team able to move the deficit more than two or three points at a time, the clock continued to dwindle down. SC State took a time out with 6:11 left in the game trailing 45-36. They instantly came out with a great half court offensive set and scored an easy layup. Unfortunately for them, their defense could not get the stops they needed and they were unable to get the score any closer.
In fact, the offense went stagnant as well and BCU took the lead back up to nine points with just 2:54 to play, seemingly putting the game out of reach.
SC State put in a great effort with a full court press after getting the lead down to seven at 49-42 with 2:46 to play, but time was not on their side as BCU eventually won 58-49.
Probably the worst thing was the game ended too soon, resulting in over 40 minutes between games due to television coverage on ESPN U. Usually I'm not a fan of fouling every play inside of two minutes to play, but I could have used something to pass the time.
I could only handle so many intermission games of putting on the over-sized basketball uniform and trying to make a layup, so I stepped outside for the first time in eight hours for some fresh air.
One more game to go today. I'm hoping it is close like the first two.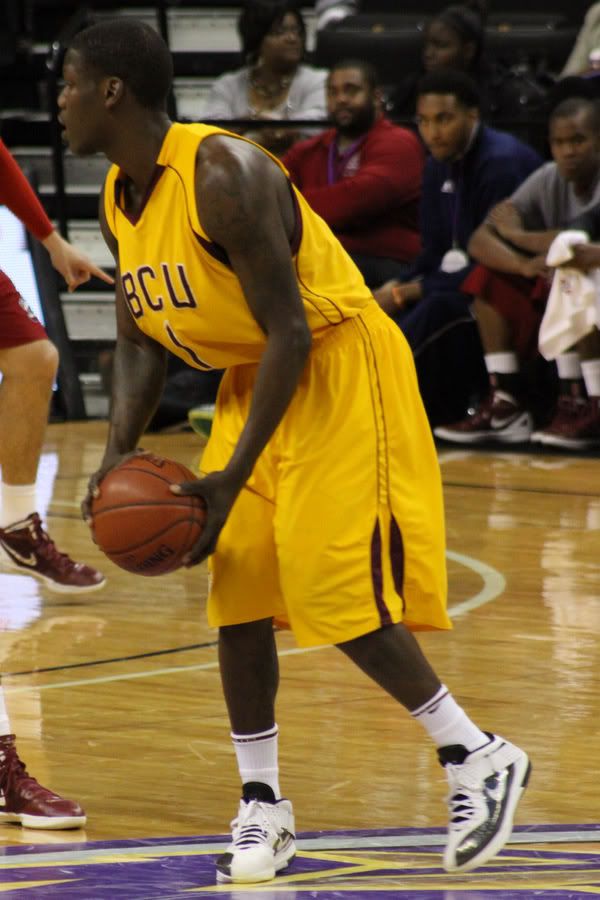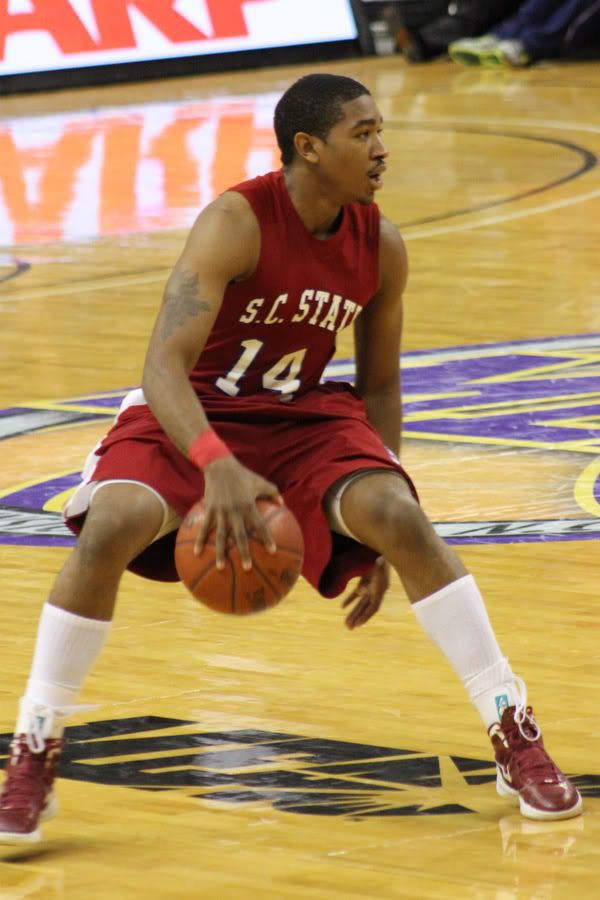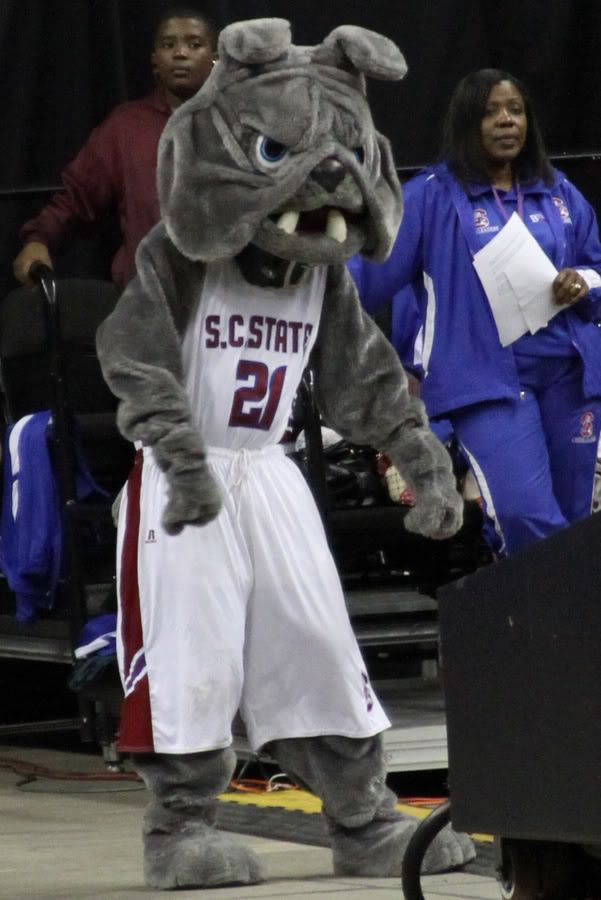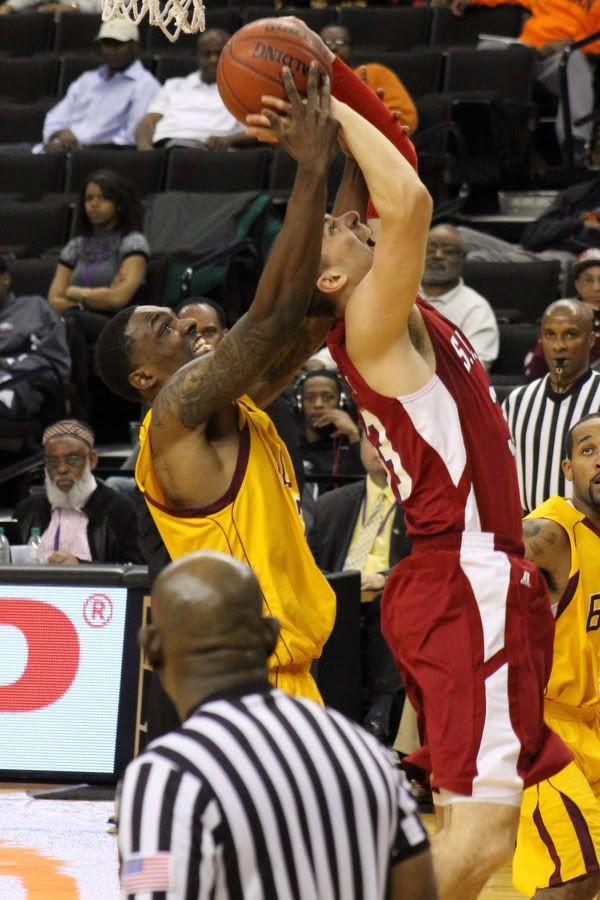 FLORIDA A&M 74, COPPIN STATE 72
03/06/2012


FLORIDA A&M 9-22 (6-10) -- A. Stevens 8-13 2-4 19; J. Dean 0-0 0-0 0; C. Watson 3-8 4-6 13; R. Lewis 4-8 0-0 11; D. Bullard 0-4 0-0 0; A. Moore 5-7 5-5 19; N. Drayton 1-2 1-2 3; B. Hosley 1-3 2-2 5; J. Kennings 0-1 0-0 0; Y. Crowder 1-2 2-2 4. Totals 23-48 16-21 74.
COPPIN STATE 14-16 (9-7) -- A. Ellis 7-13 4-6 24; T. Gallo 5-11 9-14 21; L. Wiens 4-9 0-0 10; T. Cephas 2-5 3-5 7; C. Johnson 0-3 2-2 2; A. Williams 3-8 2-2 8; B. St. Louis 0-0 0-0 0; M. Murray 0-1 0-0 0; M. Harper 0-2 0-0 0. Totals 21-52 20-29 72.

Three-point goals: FAMU 12-20 (A. Stevens 1-2; A. Moore 4-5; C. Watson 3-5; B. Hosley 1-2; R. Lewis 3-5; J. Kennings 0-1), COPP 10-27 (M. Harper 0-2; A. Ellis 6-10; T. Gallo 2-5; C. Johnson 0-3; L. Wiens 2-5; T. Cephas 0-2); Rebounds: FAMU 27 (A. Stevens 10), COPP 31 (A. Williams 10); Assists: FAMU 13 (A. Stevens 4), COPP 15 (T. Cephas 4); Total Fouls -- FAMU 25, COPP 18; Fouled Out: FAMU-None; COPP-A. Ellis.
blog comments powered by