Game #8-723: Howard Bison vs. North Carolina A&T Aggies
March 6, 2012 1:30 pm
Winston-Salem, NC
BBState Stats/Recap
The second game started pretty much right on schedule around 1:30pm. The Aggies of NC A&T jumped out to a quick 13-7 lead before Howard found their rhythm and came back for a 19-13 lead. As the half played out, I noticed that Howard had trouble every time the Aggies pressured the player who was trying to inbound the ball.
When the first half was over, I left my seat because my laptop battery was running low and I was getting hungry. First I walked half way around the arena to the Red Hot and Blue BBQ stand for a sandwich platter and a drink. It cost me $12.50 for a decent sized sandwich, about four ounces of cole slaw and a very large Pepsi. Not great prices but I've seen worse.
In retrospect I really wish I had searched around for a writing gig or fixed up my own website. I realized how it would have been advantageous to have a credential. Next year I'll be better prepared for conference tournaments by planning ahead.
Next to the BBQ stand I found a section with portable seating that had an electrical plug just on the other side of the way. Thankfully I have a long charger cord and was able to stretch the cord enough to allow me to type and watch the game. The added benefit was I was the only person in this section so I could spread my stuff out, allowing me to quickly go from typing to taking photos without bothering those around me.
The second half of the game started with a nice run by Howard to tie the game and play was fast, but inconsistent as the teams traded baskets and turnovers.
The key moment of the half was when Howard was called for a controversial travel, resulting in their coach going ballistic at the referee. Thankfully the referee was patient and didn't call an instant technical on the coach like you see all too often in basketball.
This sequence seemed to inspire the Howard team and they went on a small run that saw them take a four point lead that they valiantly attempted to hold onto for the final nine minutes of the game despite going over six minutes without scoring a point. Missed free throws by the Aggies did them in as they fell 51-50.
The most curious decision was when the Aggies shot an easy layup while down three with just 3.5 seconds left in the game. Ultimately that was their undoing as they stole the in bounds pass but ran out of time before they could get a shot off.
After two games, I am not sure if it is bad play or bad coaching that is prompting the trailing teams to go for two point shots when down three or more in the final few seconds.
Hopefully one of the final three games has a more memorable finish and not just a "what-if" moment.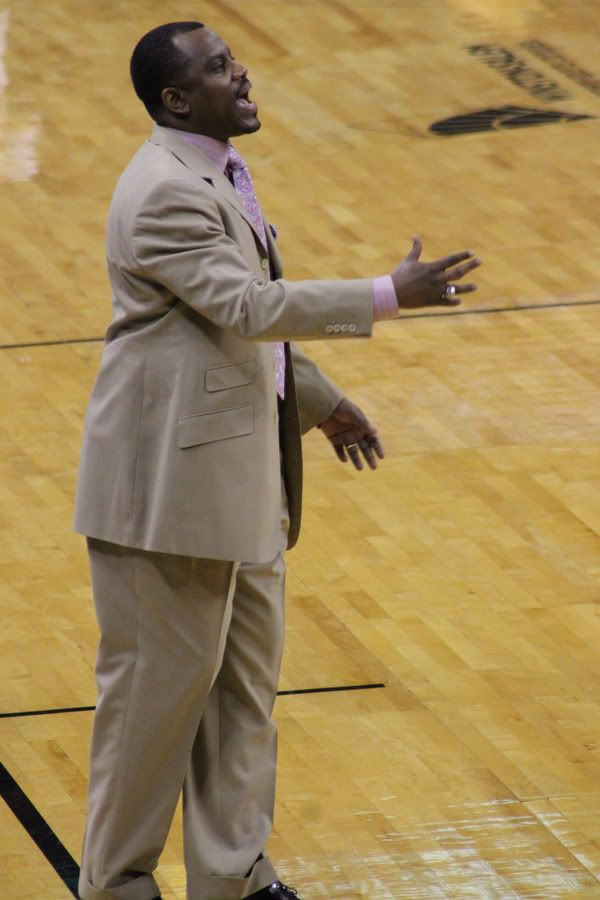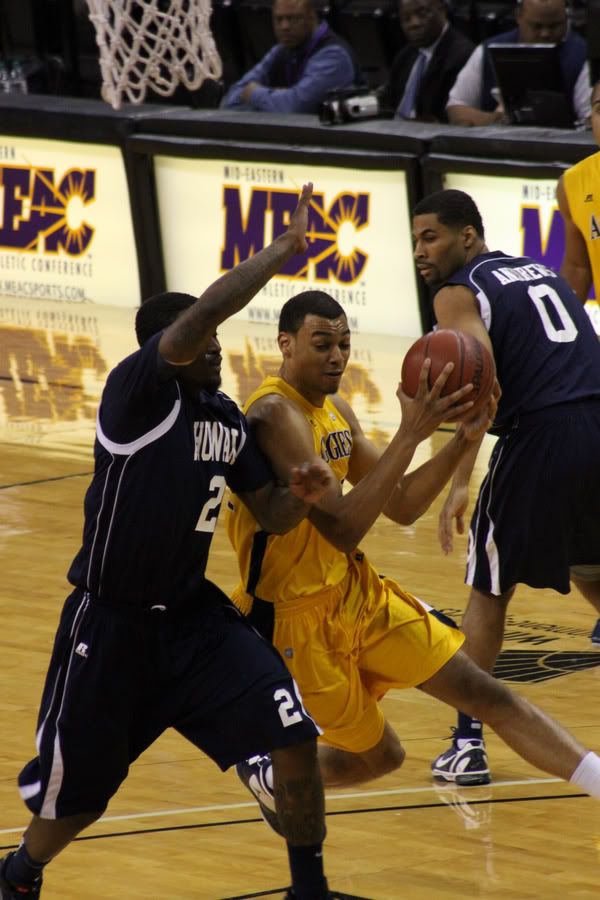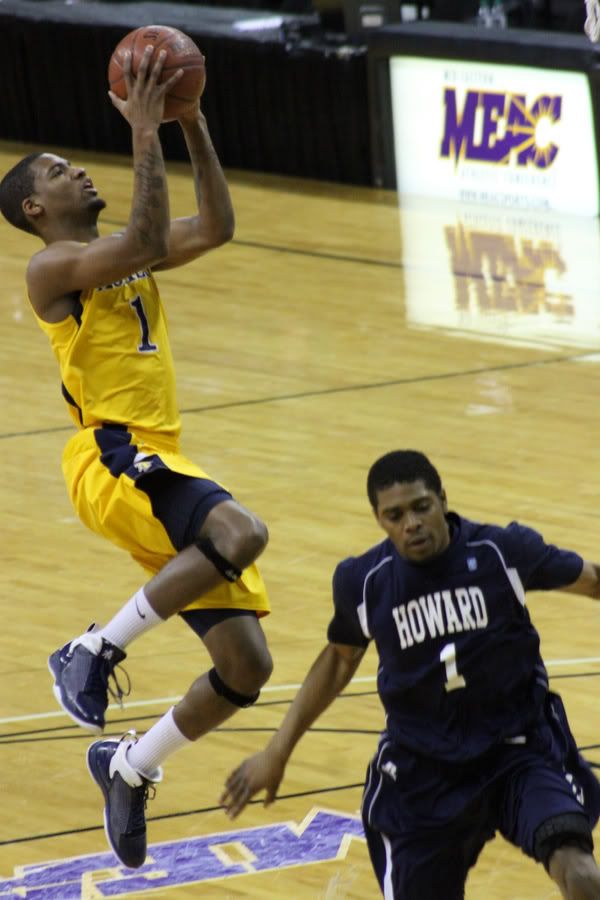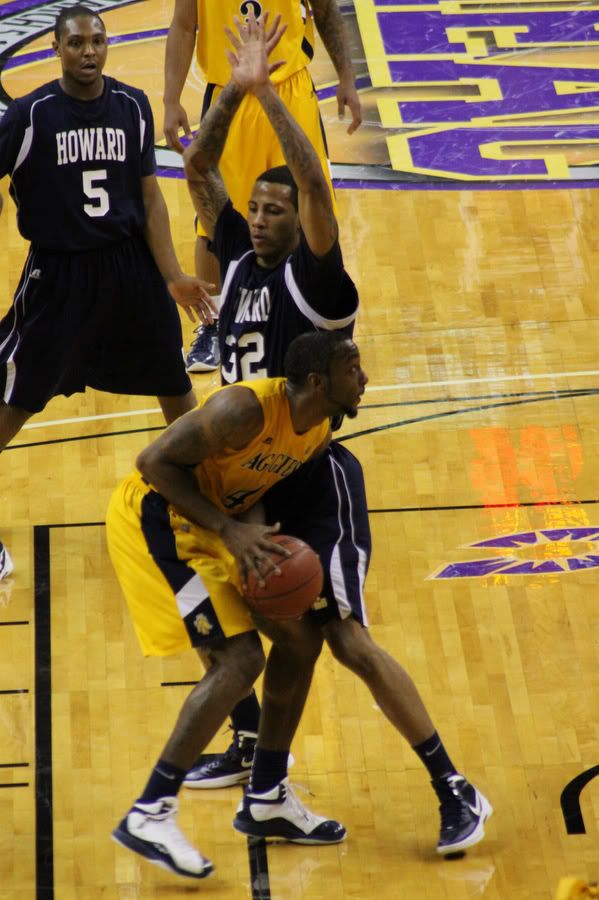 HOWARD 51, NORTH CAROLINA A&T 50
03/06/2012



HOWARD 10-20 (6-10) -- M. Phillips 1-7 5-7 7; C. Thompson 5-14 3-5 15; P. Okoroh 3-9 4-4 10; A. Leary 1-2 0-0 2; S. Frazier 3-7 1-2 9; G. Andrews 2-10 1-1 6; O. Ellison 0-0 0-0 0; D. Collins 0-1 0-0 0; T. Lee 0-1 0-0 0; B. Bailey 1-1 0-0 2; B. Ford 0-0 0-0 0. Totals 16-52 14-19 51.
NORTH CAROLINA A&T 12-20 (7-9) -- A. Powell 4-12 8-8 16; D. Upchurch 5-9 3-7 13; M. Hill 0-9 0-2 0; A. Witter 2-4 1-2 5; J. Louisme 2-4 0-0 5; J. Underwood 0-4 1-4 1; R. Buck 1-3 2-2 4; J. Williams 1-3 0-0 2; L. Smith 1-3 2-2 4. Totals 16-51 17-27 50.

Three-point goals: HOW 5-15 (G. Andrews 1-7; C. Thompson 2-4; S. Frazier 2-3; P. Okoroh 0-1), NCAT 1-11 (M. Hill 0-4; J. Williams 0-1; A. Powell 0-2; J. Underwood 0-1; J. Louisme 1-3); Rebounds: HOW 37 (M. Phillips 8), NCAT 33 (A. Powell 7); Assists: HOW 9 (C. Thompson 4), NCAT 6 (M. Hill 2); Total Fouls -- HOW 22, NCAT 14; Fouled Out: HOW-None; NCAT-None.
blog comments powered by