Game #8-465: Gonzaga Bulldogs at Portland Pilots
January 26, 2012 11:00 pm
Chiles Center
BBState Stats/Recap
Let's get some things out in the open now: I don't like Gonzaga. I've disliked them since 1994, the last time Portland beat them at home. That is, of course, well before they made deep NCAA runs, well before Mark Few arrived as coach, well before they became the Red Line exception they are. I know they're good for the WCC but I can't bring myself to root for them, ever. One of the reasons I'm glad programs like St. Mary's, Butler, George Mason, VCU, Murray State, etc. are getting better is now I don't have to hear about Gonzaga so much from Sportz Nation.
With that out of the way, now we can talk about the game. Like I said, it's been a while since I've been able to see the Pilots beat the Bulldogs at home. As you can imagine this is a game I anticipate all season. I like to get to the arena about an hour early, but for Gonzaga I get there 90 minutes or two hours ahead of time. I love watching the energy build as the Chiles Center fills and tipoff approaches. Usually I take a walk around the upper level of the arena and just look down at the empty seats and court, thinking about the game to come.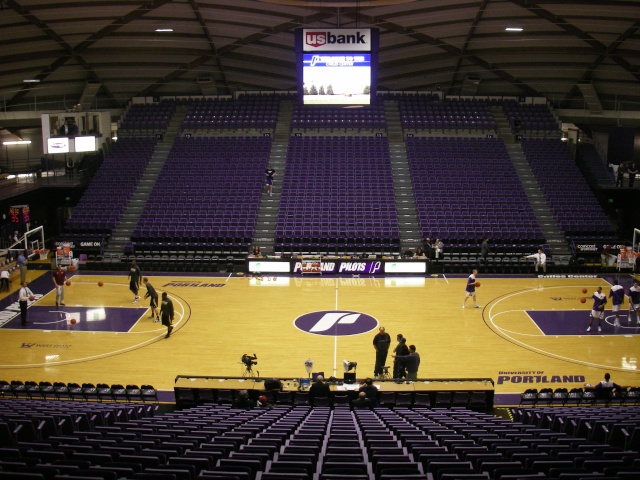 I'll pause and point out this file photo from the Santa Clara game is taken from the top row of seats. As you can see it's a pretty good view even from there. The Chiles Center has good sightlines, lots of comfortable chairs in the sideline sections, and at 5000 is just big enough for schools above the line to be willing to come. Oregon, Oregon State, Washington, and Washington State have all paid visits (though the Oregon schools don't seem interested in returning anytime soon), and so did BYU when they were in the Mountain West. The clean, simple court design is also one of the nicest I've seen anywhere.
I also like watching the student section fill up right away as, unfortunately, this is the only time all season it will be anywhere close to full. One of the first through the door was Portland's other Mid-Majority contributor, Steven Langston, with his faithful companion Pilotballz. Mine also made it to the game, and after a family reunion he found a good seat despite the sellout crowd.


This game has been a guaranteed sellout for years, and usually the only one for the Pilots. This is due to the many Gonzaga fans in the area, some of whom have Pilot season tickets, cheer for Portland all season, but mysteriously arrive in Gonzaga gear for this game. The Bulldogs also travel well. Pilot students through the years have advanced the hypothesis that this is due to the fact they want to get away from the wonderful, dynamic, vibrant city of Spokane for a day or two (sorry, no more SMAC, I promise).


The students actually acted as college students should. They were loud the whole game and mostly stayed to the end. Reading my Twitter feed after Pilot soccer and basketball games I can tell you: student support makes a difference. The players notice and appreciate it. Okay, so one fool threw a sign, which is not acceptable ever, but it was quite a heave as it got across the entire court on the fly. I mean, you shouldn't do that, but...dang!


Once the game started the Pilots seemed ready to give Gonzaga their best shot. The Bulldogs had a completely horrid start, shooting 17% midway through the half. Portland held a 5-point lead for a long stretch but couldn't extend it, having troubles of their own with turnovers and missed shots too. I think if they could have built a halftime lead bigger than four points things possibly could have been different. I'd seen the Pilots play plenty of good halves against Gonzaga, but it always takes a brilliant performance for all 40 minutes against them. In the second half Gonzaga eventually started scoring and gave the Pilots problems on offense and defense, as I feared. Portland, to its credit, did not simply close up shop and kept scoring and did not allow a complete blowout like they did last month in Spokane, where the final was 90-51. A 12-point loss is still a loss but the Pilots were much more competitive. Games like this will pay off in the long run if the players take lessons from them.
GONZAGA 74, at PORTLAND 62
01/26/2012


GONZAGA 17-3 (7-1) -- E. Harris 5-10 7-8 17; K. Pangos 4-13 4-5 12; G. Bell Jr. 5-9 7-8 18; R. Sacre 5-5 6-7 16; M. Carter 2-2 0-1 4; G. Landry Edi 1-2 1-2 3; S. Dower 2-8 0-0 4; D. Stockton 0-2 0-0 0. Totals 24-51 25-31 74.
PORTLAND 5-16 (2-6) -- R. Nicholas 6-14 0-0 13; N. Mitrovic 3-8 0-0 8; K. Bailey 2-7 1-2 6; T. van der Mars 3-4 0-0 6; D. Rodgers 3-5 3-4 9; T. Riley 3-8 0-0 7; T. Douglas 4-8 2-4 11; D. Carr 1-2 0-0 2; D. Cason 0-2 0-0 0; J. Bailey 0-0 0-0 0. Totals 25-58 6-10 62.

Three-point goals: GONZ 1-11 (S. Dower 0-1; E. Harris 0-1; D. Stockton 0-2; G. Bell Jr. 1-1; K. Pangos 0-6), PORT 6-21 (N. Mitrovic 2-7; T. Riley 1-5; T. Douglas 1-3; R. Nicholas 1-3; K. Bailey 1-2; D. Cason 0-1); Rebounds: GONZ 30 (E. Harris 10), PORT 24 (R. Nicholas 10); Assists: GONZ 13 (M. Carter 3), PORT 12 (T. Douglas 4); Total Fouls -- GONZ 14, PORT 26; Fouled Out: GONZ-None; PORT-None.
blog comments powered by