Game #8-284: North Carolina Central Eagles vs. Prairie View Panthers
December 22, 2011 7:30 pm
Eugene, OR
BBState Stats/Recap
After reading Kenny Ocker's recaps from the first two nights of the Global Sports Hoops Showcase, I was prepared for some basketball that was somewhat lacking in entertainment value. That was not the case in the first game of the third and final night of the event, however. North Carolina Central and Prairie View A&M faced off in a MEAC-SWAC showdown. Eugene, Ore. might not seem like the most natural place for a matchup like this, but given how many nonconference road games schools in those conferences play it somehow didn't seem as far-fetched.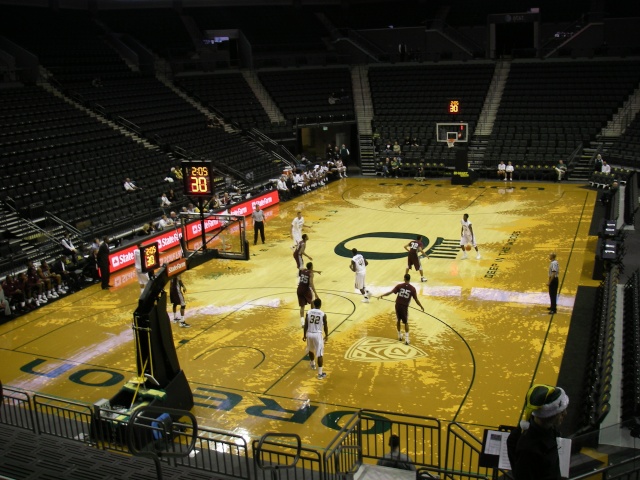 As you can see, the crowd once again might have been described as "late-arriving." Coming down from Portland, about 100 miles to the north, I didn't get to the arena until about three minutes were left in the first half.
Kenny had advised me this game would be the most entertaining, and he was right. I was pleasantly surprised to see NCCU holding a three-point lead. The game went back and forth until halftime. PVAM tied it with a superhoop on their last possession, but gave the Eagles a chance to reclaim the lead by fouling with 0.1 second left. Two made free throws later, the halftime score was 33-31 NCCU.
I spent halftime talking with Kenny about the new arena, the games we had seen this year, and his experiences as a student above the Red Line. Though I attended a school below the line, I found we still share a lot of the same views about sports, and it was nice to chat with him.
For the second half, Kenny returned to his personal table in the media area (there were about six of them spread out over six or eight rows at one end of the arena) and I sat down to watch NCCU gradually extend their lead. They must have talked about tightening their defense, because they actually started getting stops and forced a whopping 23 turnovers from the Panthers. Six of those were steals by Dominique Sutton, the best player on the floor. He added 19 points and four rebounds in 39 minutes for NCCU. Freshman Ebuka Anyaorah added 18, including 3-for-6 from superhoop territory, for the Eagles.
While Prairie View actually outshot NCC 47% to 44% and outrebounded them 32-17, the above mentioned turnovers did them in. NCC was able to capitalize and pull away for a 69-58 win. They actually are now 7-6 and went 2-1 in Eugene, so their transition to Division I seems to be going as well as it can. Prairie View, meanwhile, sits at 4-9 but heads back home to start SWAC play after playing all but three nonconference games away from their home court.
NORTH CAROLINA CENTRAL 69, PRAIRIE VIEW 58
12/22/2011



NORTH CAROLINA CENTRAL 7-6 (1-0) -- D. Sutton 6-11 7-11 19; N. Chasten 2-8 2-2 7; R. Willis 3-7 5-6 11; J. Ingram 4-8 1-2 11; E. Chapman 1-4 1-2 3; E. Anyaorah 6-11 3-3 18; T. O'Neal 0-0 0-0 0; T. Beaman 0-1 0-0 0; K. Jawara 0-0 0-0 0; J. Nicely 0-0 0-0 0. Totals 22-50 19-26 69.
PRAIRIE VIEW 4-9 (0-0) -- D. Chapman 2-4 6-8 10; R. Wright 5-7 0-4 10; R. Gesiakowski 3-10 0-0 8; J. Demunyck 2-4 0-0 5; J. Montgomery 3-7 0-0 6; T. Meadows 3-5 1-2 8; M. Jackson 2-3 0-0 4; L. Munks 1-4 0-0 2; M. Scott 1-3 0-0 3; C. Bell 1-2 0-0 2; M. Adu 0-0 0-0 0. Totals 23-49 7-14 58.

Three-point goals: NCC 6-19 (E. Anyaorah 3-6; R. Willis 0-1; N. Chasten 1-4; T. Beaman 0-1; E. Chapman 0-2; J. Ingram 2-5), PVAM 5-17 (T. Meadows 1-3; J. Montgomery 0-1; J. Demunyck 1-2; L. Munks 0-1; R. Gesiakowski 2-8; M. Scott 1-2); Rebounds: NCC 17 (D. Sutton 6), PVAM 32 (D. Chapman 6); Assists: NCC 10 (E. Chapman 4), PVAM 10 (R. Wright 6); Total Fouls -- NCC 18, PVAM 23; Fouled Out: NCC-J. Ingram; PVAM-None.
blog comments powered by