Game #8-083: Washington State Cougars at Portland Pilots
November 20, 2011 10:00 pm
Chiles Center
BBState Stats/Recap
Basketball is always changing. For the Portland Pilots it change has taken multiple forms for the 2011-12 season. The first change actually came in 2010 when the West Coast Conference invited BYU. Their official entry in the summer of this year marked the first change in the WCC's membership since 1980. After 30 years of the same eight members with mostly the same travel partners and a tidy 14-game conference schedule, a nine-team league is going to take some getting used to for everyone. To mark the change in its membership the WCC also changed its logo.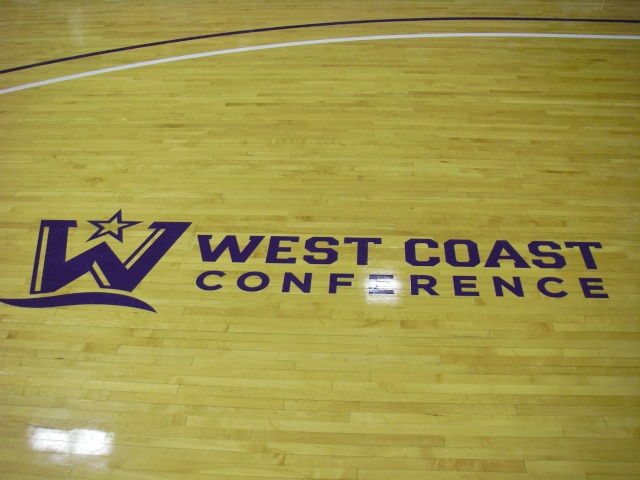 The conference season, however, does not begin until late December. There are also more immediate changes. Four seniors, three of them starters, have graduated, and five promising freshmen have taken their place. Thus the Pilots are fortunate to have Eric Reveno as head coach. Since his arrival in 2006 he has shown himself to be a master developer of players.
The team had begun its campaign with a 2-1 mark at a tournament in Seattle, showing poise in winning its first two games, closely contested affairs against FAU and Georgia State, before a completely unsurprising 30-point blowout at the hands of host Washington. This positive start to the season left many Pilot fans eager to see where their team stood in the home opener against Washington State. This would be a stiff test, but not by any means a guarantee game (that will come next weekend at Kentucky).
As it happened, WSU showed the advantage it held in athleticism from the opening minutes. Their big men went to work early, led by Brock Motum, then guard Faisal Aden began driving the lane and hitting jump shots. Their lead gradually built up until with about six minutes remaining in the first half the WSU lead was ten points, where it stayed at halftime. The second half brought no comeback, but Portland's renewed sense of urgency on defense did not allow WSU to pull away. Instead the Cougars would win 83-73 in a victory that was likely not as comfortable as the many WSU fans in the crowd of 3,613 might have expected.
Though the outcome was not what Portland had hoped for there were positives, mainly the play of the freshmen mentioned above. Four of them played and they all appeared for between 13 and 20 minutes with two of them scoring in double figures. The leading scorer for the Pilots, with 14, was guard Kevin Bailey. He showed his versatility by shooting the three and driving to the rim, just missing a huge dunk in the second half. Though he only made two field goals he was able to draw fouls and shot 9-10 from the free throw line. Center Thomas van der Mars, from the Netherlands, showed strength and a decent shooting touch around the basket, finishing with 10 points and 5 rebounds to his credit. Guard David Carr, Oregon's high school player of the year at the 5A classification, started, played 20 minutes, and scored 7 points. If he can make some more threes he'll be a big help to the Pilots, who shot .283 from distance. Dorian Cason, a forward who played well in two exhibitions to start the season, did not score and was hurt by foul trouble but had 4 rebounds.
Change is sometimes hard, especially when it involves losing the senior class the Pilots did. However, the potential shown by the freshmen tonight, combined with the veteran leadership of guards Nem Mitrovic and Tim Douglas and big men Ryan Nicholas and Riley Barker, should give Pilot fans hope for the later stages of this season and the seasons to come.

WASHINGTON STATE 83, at PORTLAND 73
11/20/2011


WASHINGTON STATE 2-1 (0-0) -- R. Moore 2-6 2-4 6; B. Motum 6-9 1-2 13; M. Capers 2-3 2-2 6; C. Enquist 2-2 4-5 8; F. Aden 7-14 6-7 21; D. Lacy 3-5 4-6 11; M. Ladd 3-8 1-1 8; D. Shelton 2-2 4-6 8; W. DiIorio 1-1 0-1 2. Totals 28-50 24-34 83.
PORTLAND 2-2 (0-0) -- T. Douglas 2-4 4-5 8; N. Mitrovic 4-12 1-2 11; D. Rodgers 4-6 2-4 10; R. Nicholas 4-10 2-3 11; R. Barker 0-2 2-3 2; D. Carr 3-6 0-0 7; T. van der Mars 5-6 0-1 10; K. Bailey 2-9 9-10 14; D. Cason 0-3 0-0 0; T. Riley 0-2 0-0 0. Totals 24-60 20-28 73.

Three-point goals: WSU 3-9 (F. Aden 1-2; M. Ladd 1-4; D. Lacy 1-3), PORT 5-21 (N. Mitrovic 2-8; T. Riley 0-1; R. Nicholas 1-3; K. Bailey 1-3; D. Carr 1-4; D. Cason 0-2); Rebounds: WSU 28 (R. Moore 6), PORT 37 (R. Nicholas 7); Assists: WSU 16 (R. Moore 8), PORT 11 (T. Douglas 4); Total Fouls -- WSU 25, PORT 25; Fouled Out: WSU-R. Moore; PORT-None.
blog comments powered by